Ciccarelli Introduces Special Gelato to Support People of Ukraine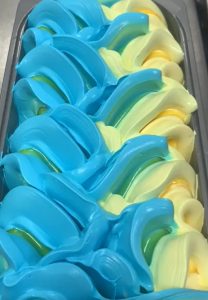 With the on-going conflict in Ukraine leaving millions of people in desperate need of support, we are donating 10% of the profits from any sales of this specially introduced gelato to the British Red Cross Ukraine Crisis Appeal. This Banana, Blue Vanilla and Banana Ripple flavoured Gelato is made at our ice cream factory in Cramlington, Northumberland and has a yellow and blue colour combination to represent the Ukrainian flag.
The money which goes to the Red Cross Ukraine Crisis Appeal from sales of this gelato will contribute to providing food, water, first aid, medicines, warm clothes and shelter for those affected. Since the conflict began in February, teams from the British Red Cross have already helped more than 750,000 people in Ukraine and its bordering countries. The British Red Cross are also supporting refugees from Ukraine here in the UK.
If you are a wholesale customer and would like to buy this gelato, get in touch here.