Ciccarelli Vanilla Gelato is Officially Best in UK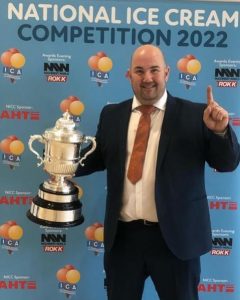 If you are on the lookout for the finest Vanilla Gelato in the country, you have arrived at the right place. This was confirmed at the recent National Ice Cream Championships with Ciccarelli Artisan Gelato winning a Gold Medal and Trophy for the Best Vanilla Gelato 2022.
The annual awards ceremony is run by the Ice Cream Alliance (ICA) and is considered the 'Oscars' of the industry. Hundreds of products are submitted across 13 categories, the most coveted of which being the Vanilla Dairy Ice Cream Class. Winning first prize fulfilled an ambition which began three decades ago for Ciccarelli Director, Domenico Gregorio (pictured left):
"We've been trying to win this for 30 years and it's such a massive achievement to win a Vanilla Dairy Ice Cream Class because it's the one every ice cream maker enters. I'm so proud of all the staff at Ciccarelli who worked so hard for this."
Our customers have enjoyed our Vanilla Ice Cream for many years, commenting on its delicious flavour and this accolade confirms what we always knew, that ours is the best! Domenico explains what makes it so special:
"Locally sourced organic milk, pure ingredients and quality vanilla pods. Simple, local and delicious. We Italians have a saying when visiting an ice cream parlour, try the vanilla and try the pistachio ice creams. If those are good everything else will be."
CEO of the Ice Cream Alliance, Zelica Carr, was full of praise for Domenico and the team at Ciccarelli:
"The ice cream sector has had a challenging time over the last two years. Domenico and his team show that the sector has overcome these challenges and has bounced back better than ever for 2022 and the future."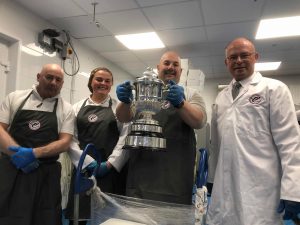 The winning of the award prompted a visit to the Ciccarelli Ice Cream factory in Cramlington from Blyth Valley MP, Ian Levy, who even had a go at making gelato himself. Ian (pictured left with the Ciccarelli team) said:
"They're a super friendly team and the passion they have for their product shines through. They've invested in state-of-the-art ice cream making machines and it was fascinating to hear all about what makes a champion gelato from people who really know their stuff. Congratulations to them on this well-deserved award."
Where to buy our award-winning Vanilla Gelato?
Our Vanilla Gelato is available for takeaway or to enjoy in our restaurant at the Ciccarelli Ice Cream Parlour at South Beach, Blyth. You will also see our Ice Cream Vans situated at various locations throughout the North East. If you are a wholesale customer, you can buy Vanilla Gelato direct from our website here or alternatively get in touch.